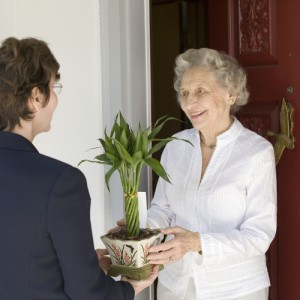 If you've just moved into your home or are considering buying a new home, you may be wondering who lives next door. In this day and age with such busy lifestyles it can take awhile to meet your neighbors. However, for safety and community reasons, it's a good idea to introduce yourself and make some friends.
If you're shy about reaching out, you can always turn to the latest neighborhood introductory tool, Next Door. Next Door allows you to meet your neighbors virtually and monitor neighborhood safety. You can also share recommendations or give and ask for advice, a helpful tool if you need a local contractor. If you'd like to start a neighborhood garage sale or host a block party, this is an easy way to get it started! You can even download an app for your smartphone to be updated when someone replies to your invitations or notices unusual activity near your home.
Used in more than 16,000 neighborhoods, this free private social network could be the answer to feeling more connected to your neighborhood and your home, even with your busy lifestyle. From finding the perfect babysitter or pediatrician to getting restaurant recommendations, Next Door can make your life easier and your neighborhood safer.
Experience is critical when you choose a REALTOR® and Aaron Zapata has the experience of a highly successful real estate career. Now, as the Broker-Owner of Zapata Realty in Yorba Linda Ca, he is continuing to offer state of the art marketing and customer service by upholding his Core Values both in his business and personal life. Known as the "go-to-guy" for answers among his peers, Aaron enjoys helping customers achieve their real estate goals.