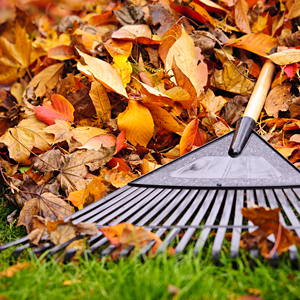 Labor Day has passed, which means it's time to get ready for fall. An important task is to prepare the landscaping around your home for the cooler months. You don't want spring to roll around and discover that your once-lovely landscaping has been ruined.
Be sure to rake up any leaves that fall on your lawn. The changing colors of autumn leaves are beautiful. However, if you let the leaves pile up on your lawn, it can get damaged as clumps of old leaves may prevent the grass from getting sufficient oxygen.
If you have decorative bushes or roses planted around your home, now is the time to stop pruning them. Pruning encourages new growth and since you don't want to risk your plants with a growth spurt in the winter, it's time to let them begin to wind down. The exception to the no-pruning rule is dead wood, which needs to be removed to prevent bugs from nesting.
While pruning should be stopped, feeding must continue. Be sure your plants are adequately nourished for the lean winter months. Add fertilizer and compost to the soil and thoroughly weed your garden beds as well. Weeds should be easier to pull as the weather cools and the plants start to wither and dry up.
Now is also a great time to plant perennials in many places. Bulbs especially will get a head start on growing a strong root system during the cooler months so that your home can be filled with beautiful blossoms come spring. Taking the time now to clean up, clear out, and prepare will have you enjoying your landscaping and your home throughout the coming seasons.
Aaron Zapata is the Broker-Owner of Zapata Realty, Inc. in Yorba Linda CA.  He offers state of the art marketing and customer service by upholding his Core Values both in his business and personal life.  Aaron holds a BA in Theological Studies from BIOLA university and an MBA from California State University, Fullerton and is known as the "go-to-guy" for answers among his peers.  Aaron enjoys helping customers achieve their real estate goals.  He holds numerous certificates including the Seniors Real Estate Specialist (SRES), Council of Residential Specialist (CRS), Certified Distress Property Expert (CDPE), Five Star Professional (FSP), and holds memberships in various local and national professional organizations.  Nearly all of his clients come through referrals from other agents and clients.  With over a decade of experience, a lengthy list of satisfied clients, and in-depth knowledge in his field, he should definitely be on your short list of agents to contact when you have a real estate question or need.