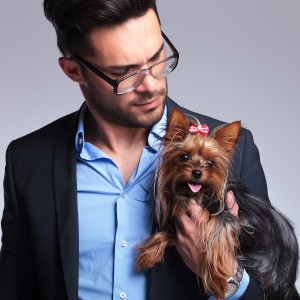 If you are an animal lover, a feathered or furry friend can make your home feel more welcoming. However you may find that your neighbors do not share that opinion. If you have an animal friend in your home, you can follow a few easy rules to live peacefully with neighbors who may not be animal fans.
First of all, respect the fact that some people are genuinely afraid of animals, especially large dogs. Train your dog to avoid jumping on people, large and small. And, when your animal-free neighbors invite you over, leave your pet at your home. Although Fido or Fluffy may be part of your family, your hosts probably will not be expecting any additional guests, especially in the form of animals.
When out for a walk with your pet, keep your dog on a leash and be prepared to pick up after your pet. If you have a cat, be sure to keeps its litter box clean to discourage it from using a neighbor's sandbox or flowerbed.
While you can't always calm an animal or quiet it down on command, don't allow your pet to habitually growl, bark, hiss or shriek. Minimize these noises by creating an environment in your home that your pet finds relaxing and enjoyable. It's possible to keep the peace between your non-animal loving neighbors and your pet, if you are willing to teach your pet to be a good neighbor, too!
Aaron Zapata is the broker owner of Zapata Realty, Inc. located in Yorba Linda, CA. He has been a licensed broker for over a decade and has been working in the real estate industry for over 16 years.
Aaron began his career as a part-time telemarketer for a top producing Real Estate broker-owner in Whittier. Within a few years he was running the entire company and helped grow the company by hiring and training over 200 agents and overseeing the escrow, mortgage, and property management divisions.
Aaron holds a degree in Biblical and Theological studies from Biola University and a Masters in Business from Cal State Fullerton. He has been quoted by the Los Angeles Times, Orange County Register and the Associated Press and is an author and speaker. He is also maintains designations and memberships with nearly a dozen organizations aimed at raising the standards and ethics in the real estate industry. Although ranked in the top 1% nationwide, he gives each client his focused attention with the simple purpose of doing what is best for them. Nearly all of his business comes from referrals from his satisfied clients.