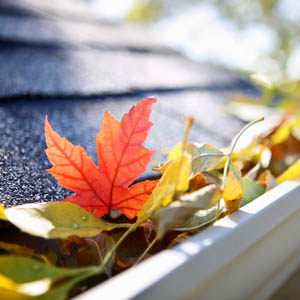 Autumn is in full swing, which means it's a good time to start winterizing your home. Start off the season by getting your furnace inspected and cleaned if necessary. It's wise to change the filters on your furnace every month, for better energy efficiency. You may also want to consider getting a programmable thermostat if you do not have one.
The fireplace in your home may need attention, too. Keep out pests by putting a cap or screen at the top of the chimney and consider hiring a chimney sweep if it's been a while since the chimney was cleaned. Get your firewood ready, and store it in a dry place, away from the exterior of your home and make sure the damper opens and closes properly.
Now it's time to begin winterizing your home outside. Check the doors and windows of your home. Put weatherstripping around doors and caulk windows to keep cold air out. Seal any exterior cracks. Put up winter screens or storm windows, if you have them.
One more thing you want to do is to clean out the rain gutters around your home. Clean out debris with a hose. It's a good idea to put leaf guards on the gutters and extensions on downspouts to keep water away from your home, as well. Check your foundation for any entry points small animals could squeeze through and seal them up. The last thing you need when it's cold is a rodent problem.
Aaron Zapata is the broker owner of Zapata Realty, Inc. located in Yorba Linda, CA. He has been a licensed broker for over a decade and has been working in the real estate industry for over 16 years.
Aaron began his career as a part-time telemarketer for a top producing Real Estate broker-owner in Whittier. Within a few years he was running the entire company and helped grow the company by hiring and training over 200 agents and overseeing the escrow, mortgage, and property management divisions.
Aaron holds a degree in Biblical and Theological studies from Biola University and a Masters in Business from Cal State Fullerton. He has been quoted by the Los Angeles Times, Orange County Register and the Associated Press and is an author and speaker. He is also maintains designations and memberships with nearly a dozen organizations aimed at raising the standards and ethics in the real estate industry. Although ranked in the top 1% nationwide, he gives each client his focused attention with the simple purpose of doing what is best for them. Nearly all of his business comes from referrals from his satisfied clients.