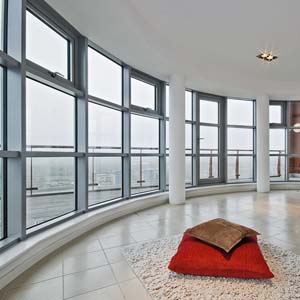 Updating the windows in your home can be a big investment. However, it can be a great way to improve your energy efficiency, especially as cold weather approaches. Here are a few things to consider as you weigh updating the windows in your home.
If your home is older and you have wooden windows, you probably spend a lot of time and money keeping them up. Wood can rot and also needs to be painted on a regular basis. If you haven't been able to keep up with the maintenance requirements of wood windows, the exterior of your home may look rather shabby. Cheap windows installed in some newer homes can also start looking worn in a short time, as well.
In either case, updating the windows in your home can give the exterior a fresher and more attractive look. Often older or low quality windows are not very energy efficient. If you are losing heat or cool air through gaps in the window frames, new windows can really help. Modern windows have better insulation to keep out the weather and better regulate the temperature of your home. They're also better able to keep out noise.
Another important consideration when updating the windows in your home is security. Old windows are often hard to lock and easy to break. Newer windows have better security latches that are likely more durable and harder to break. However, regardless of security, strength and functionality, the look of the window may be your biggest concern, so make sure you choose one you like!
Aaron Zapata is the broker-owner of Zapata Realty, Inc. located in Yorba Linda, CA. He has been a licensed broker for over a decade. His growing practice includes residential and apartment sales in Southern California.
Aaron holds a degree in Biblical and Theological studies from BIOLA University and a Masters of Business Administration (MBA) from Cal State Fullerton.  He has been quoted by the Los Angeles Times, Orange County Register, and the Associated Press and is an author and speaker. He is also maintains designations and memberships with nearly a dozen organizations aimed at raising the standards and ethics in the real estate industry.  Although ranked in the top 1% nationwide, he gives each client his focused attention with the simple purpose of doing what is best for them. Nearly all of his business comes from referrals from his satisfied clients.
Aaron lives in Yorba Linda with his wife Dawn. They have been married for 18 years and have a 10 year old named Levi, a 7 year old named Malachi, and they have a Beagle name Sadie.  He is an active member of Friends Church in Yorba Linda as a Board Member, and the Chamber of Commerce where he serves as the Chamber's Network Connection President.  This past summer he travelled to India with his oldest son to care for and educate the poorest of the poor.
Aaron Zapata
Aaron@AaronZapata.com
714-660-2122 Office
@AtoZRE (Twitter)
Facebook.com/AtoZRealEstate  (Facebook)