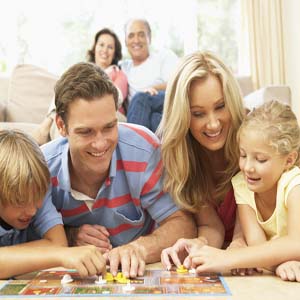 Thanksgiving traditions in your home can create some of the best memories for years to come. We can all think back to our childhoods and remember certain foods, dishes, games, or ways to give thanks. We grasp onto the wonderful memories and may try to forget the ones involving sketchy green Jell-O with mayonnaise in it. You may continue some of those same traditions in your home, or decide they are not really your style and search for new traditions to start with your own family.
Ideas to Encourage Fun in your Home
Plan a special breakfast to eat every Thanksgiving morning while watching the parade on television.
Bring out special Thanksgiving decorations and dishes to make the day unique.
Start a special way for your family to express what they are thankful for.
Perhaps your family could find a service project to participate in on or near Thanksgiving to give back to the community, or open your home to those without family in the area.
Choose a game or activity that everyone participates in after the meal.
Laughter is one of the best sounds to hear in your home. Even though laughing may be a little hard on a full stomach, it is worth the effort to find traditions that spread joy in your home.
Aaron Zapata is the broker-owner of Zapata Realty, Inc. located in Yorba Linda, CA. He has been a licensed broker for over a decade. His growing practice includes residential and apartment sales in Southern California.
Aaron holds a degree in Biblical and Theological studies from BIOLA University and a Masters of Business Administration (MBA) from Cal State Fullerton.  He has been quoted by the Los Angeles Times, Orange County Register, and the Associated Press and is an author and speaker. He is also maintains designations and memberships with nearly a dozen organizations aimed at raising the standards and ethics in the real estate industry.  Although ranked in the top 1% nationwide, he gives each client his focused attention with the simple purpose of doing what is best for them. Nearly all of his business comes from referrals from his satisfied clients.
Aaron lives in Yorba Linda with his wife Dawn. They have been married for 18 years and have a 10 year old named Levi, a 7 year old named Malachi, and they have a Beagle name Sadie.  He is an active member of Friends Church in Yorba Linda as a Board Member, and the Chamber of Commerce where he serves as the Chamber's Network Connection President.  This past summer he travelled to India with his oldest son to care for and educate the poorest of the poor.
Aaron Zapata
Aaron@AaronZapata.com
714-660-2122 Office
@AtoZRE (Twitter)
Facebook.com/AtoZRealEstate  (Facebook)