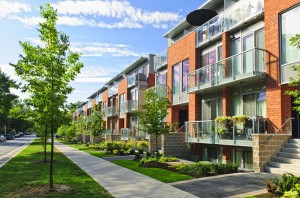 You know that curb appeal is important to buyers of single-family homes, but you are selling a condominium in a large building full of similar units. How do you make yours stand out? Here are a few tips for prompting that positive first impression that makes your home memorable:
Make sure the entry way is clean, clear and clutter free. Relocate bulky furniture that makes the entry seem smaller. Avoid coat racks and umbrella stands that jut out from the wall as well.
Consider placing a fresh potted plant inside the doorway to bring the outside in. Make sure the plant is healthy and in an attractive pot, does not block the walkway and does not shed or drop leaves.
If you have a mail slot and your home is likely to be shown after delivery, make sure to place a basket under the mail slot.
Make sure the insides of your windows are clean. If your HOA is responsible for the outside windows, request that they be cleaned before showing your home or having an open house.
If you live in a bug prone area, be sure to have your condominium treated for pests—and make sure you sweep up any dead bugs.
Make sure the hallway or walkway to your unit is clean. If you need, to, sweep it yourself. Make sure to pick up any junk mail or papers cluttering the outside.
When your home is likely to be shown, turn on the lights and have soft music playing. This may raise your utility bill slightly, but will give a warm greeting to visiting homebuyers.
As with any home, make sure the countertops and floors and clean and personal effects are out of sight. Consider placing a bowl of fruit or bouquet of flowers on the table to add some color and interest.
If you have pets, consider boarding them while your home is being shown, or ask a neighbor to collect them before the potential buyer shows up.
Most of all, call your real estate agent to learn what features to play up (or down) in your unit to place it in the best light.
Aaron Zapata is the broker-owner of Zapata Realty, Inc. located in Yorba Linda, CA. He has been a licensed broker for over a decade. His growing practice includes residential and apartment sales in Southern California.
Aaron holds a degree in Biblical and Theological studies from BIOLA University and a Masters of Business Administration (MBA) from Cal State Fullerton.  He has been quoted by the Los Angeles Times, Orange County Register, and the Associated Press and is an author and speaker. He is also maintains designations and memberships with nearly a dozen organizations aimed at raising the standards and ethics in the real estate industry.  He gives each client his focused attention with the simple purpose of doing what is best for them. Nearly all of his business comes from referrals from his satisfied clients helping him to stay in the top 1% nationwide.
Aaron lives in Yorba Linda with his wife Dawn. They have been married for 18 years and have two boys and a Beagle named Sadie.  He is an active member of Friends Church in Yorba Linda as a Board Member, and the Chamber of Commerce where he has served as the Chamber's Network Connection President.  In the summer of 2013 he travelled to India with his oldest son to care for and educate the poorest of the poor.
Aaron Zapata
Aaron@ZapataRealty.com
714-660-2122  x 1001 Office
@AtoZRE (Twitter)
facebook.com/AtoZRealEstate  (Facebook)
instagram.com/AtoZRealEstate (Instagram)
youtube.com/AtoZRealEstate (YouTube)