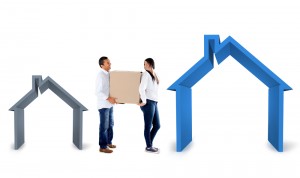 Timing the closing of your new home purchase with the end of your lease agreement or sale of your existing home is tricky, to say the least. Rarely does it work out that you move directly from one home to another on a perfect schedule. During the transition, you need a place to live and stash your stuff. In addition, you need the flexibility to move at a moment's notice — all while living, working, attending school, or running a business. Here are a few tips that might smooth the transition.
Take Care of Your Mail:
As soon as you know that there will be a break between leaving one home and moving into the other, move as many bills, bank statements and important communications to online bill pay as possible. Don't risk having your important mail delivered to an empty house. For those items not receivable online, and especially if you receive business mail at home consider changing your address to that of a trusted family member. If that's not possible, rent a mailbox. Both the US Postal Service and private mailbox providers like the UPS Store offer personal and business mailboxes along with other services. Private mailbox services can sign for deliveries and notify you when you receive packages. If your transition period is short, the USPS will hold your mail for several weeks.
Pack with Transition in Mind:
Usually when you move, you pack up the whole house, then load the moving van like a Jenga game—filling every inch of open space—expecting to unload the whole thing within a day or so at your new home. When you have a transition, however, you need to pack items to store, leaving out the things you'll need to use during those days, weeks, or even months between one place and another. Of course, you can't plan for every contingency—weather changes, a child's school project, an unplanned business trip—but you can mitigate some of the inconvenience by keeping some items accessible. One option is to rent a storage unit, placing furniture and other large items in the back, but keeping dressers or storage boxes with seasonal clothing, school and craft supplies, and travel items within reach of the doorway.
Temporarily Suspend Services:
Take the time to contact service providers such as Internet, cable or satellite, electricity and natural gas, newspaper, and landline phones to see if they offer options for suspending services until you transfer them to your new home. Some offer moving suspensions, while others have vacation holds for a small monthly fee.
Where to Live?
If your transition will last just a few weeks, you might consider accepting the hospitality of family or friends. If you work from home, have children, or just require your own space and privacy, however, there are other options.
As with all your transition needs, your professional real estate agent can provide you with relocation options and ideas to make your move as smooth as possible.
Aaron Zapata is the broker-owner of Zapata Realty, Inc. located in Yorba Linda, CA. He has been a licensed broker for over a decade. His growing practice includes residential and apartment sales in Southern California.
Aaron holds a degree in Biblical and Theological studies from BIOLA University and a Masters of Business Administration (MBA) from Cal State Fullerton.  He has been quoted by the Los Angeles Times, Orange County Register, and the Associated Press and is an author and speaker. He is also maintains designations and memberships with nearly a dozen organizations aimed at raising the standards and ethics in the real estate industry.  He gives each client his focused attention with the simple purpose of doing what is best for them. Nearly all of his business comes from referrals from his satisfied clients helping him to stay in the top 1% nationwide.
Aaron lives in Yorba Linda with his wife Dawn. They have been married for 18 years and have two boys and a Beagle named Sadie.  He is an active member of Friends Church in Yorba Linda as a Board Member, and the Chamber of Commerce where he has served as the Chamber's Network Connection President.  In the summer of 2013 he travelled to India with his oldest son to care for and educate the poorest of the poor.
Aaron Zapata
Aaron@ZapataRealty.com
714-660-2122  x 1001 Office
@AtoZRE (Twitter)
facebook.com/AtoZRealEstate  (Facebook)
instagram.com/AtoZRealEstate (Instagram)
youtube.com/AtoZRealEstate (YouTube)